Four tours to choose from:
Original Cajun Food Tour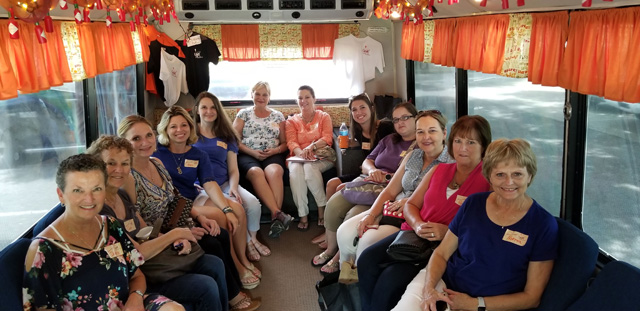 Hop on our cozy customized tour bus to learn the history, love the culture and best of all, taste the fabulous cuisine that makes us so unique. Our fun, casual Cajun taste tours take you off the beaten path to include at least 5 tasting stops at local favorites. (All included in price!) Guests will taste many Cajun originals like boudin, king cake, etouffee, gumbo, fried seafood, cracklin' and more! All should come hungry to enjoy! We partner with nearly 30 different eateries so tours, routes and items sampled will vary.
---
Walking Breaux Bridge Food Tour
This unique look at historic downtown Breaux Bridge, in the heart of St. Martin Parish, is sure to delight history buffs and food enthusiasts alike. So after you visit the Zydeco Breakfast at Buck & Johnny's, join us! We'll stroll along the banks of the Bayou Teche and down the streets of this 200-year-old settlement. Best of all, enter several of the deliciously celebrated eateries along the way for a mouth-watering experience.
---
Around the World in Acadiana International Food Tasting tour
Stuck in your comfort zone? Let us pick you up in our cozy customizee bus and broaden your culinary horizons by introducing you to cuisine from around the world. This 2 1/2 hour tour will visit four different establishments where our guests will learn about and taste a variety of international cuisines. At each stop, guests will try 2 or 3 sample dishes, and in some cases, visit with restaurant owners or staff to understand the flavors and dishes unique to that culture's cuisine. Our restaurant partners in this new adventure will include a variety of Asian, Latin, Mediterranean, and European cuisines.
---
All-Day Cajun Experience
Want to pack as much Cajun into one day as possible? Let us take care of the planning. We'll pick you up and entertain you as we hit our favorite highlights. This all-day tour includes the a guided tour of the Historic Vermilionville village, a Louisiana Cajun swamp boat tour in beautiful Lake Martin with Champagne's Swamp Tours, a Cajun dance lesson with Glide Studios, and more.
Of course, we're going to feed you well! Our favorite gumbo and bread pudding is on the menu for lunch and we'll throw in an afternoon boudin snack so you can eat like a local!
---
OR:
Have your own agenda and vehicle? We offer step-on guide services. Let one of our local, passionate & knowledgeable tour guides escort your group around Acadiana