City Sightseeing New Orleans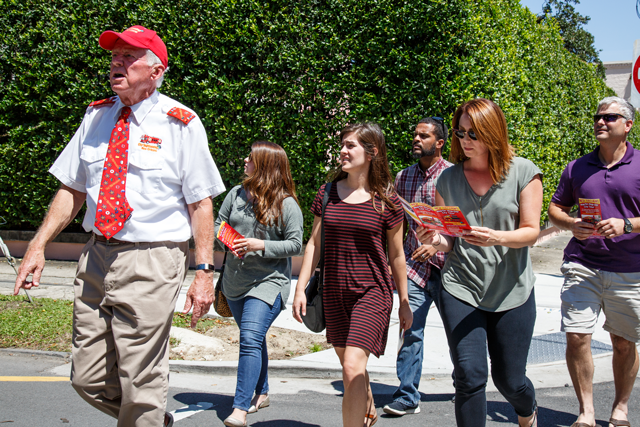 The City Sightseeing New Orleans HOP-ON HOP-OFF experience is the most entertaining, informative, and FUN City Tour you can find! When you select Hop-On Hop-Off, you get to see the city at your own pace on an exhilarating Open-Top, Double-Decker bus! Buses tour continuously from 9:30am to 5:30pm and visit every one of our 12+ stops with a frequency of 30 minutes or less.
Hop-On any bus at any stop and tour at your convenience. With views from the Top-Deck, explore 3 centuries of history, architecture, and culture narrated live in English by your very own Tour Host. Licensed Guides offer engaging commentary and orientation to each of the stops along the way!
Hop-Off at your leisure to discover the many attractions, restaurants, shops and more along our tour route. Visit all the most interesting sites throughout the city on this 2-hour Tour: French Quarter, Basin St. Station, St. Louis Cemetery#1, Superdome, Warehouse District, Mississippi River, Garden District, and then, Hop-Off to visit New Orleans most Famous attractions. Plus, show your Hop-On Hop-Off Ticket to various attractions along the way to take advantage of many deals & discounts along the way!
To enjoy the 15-minute break on the tour, Hop-Off at Stop 5 and Explore Basin St. Station Visitor Center. Basin St. Station is the former Southern Railway building, erected in 1904, now a lovely visitor center. Here you will find beautiful bathrooms, refreshments, exhibits that include one of the finest Southern Railway model train collections in America, a FREE 7-minute film on New Orleans, and a satellite image of the greater New Orleans area showing the different neighborhoods situated between the expansive Lake Pontchartrain & winding Mississippi River.
Get the MOST Bang for your Buck when you select the 3-Day Ticket to take advantage of our guided walking tours in the French Quarter and Garden District – let us take you into the most popular neighborhoods and share the stories of how they came to be. Walking Tours are 45 minutes in length and just short of a mile – each a $20 value, both included Free with the 3 Day ticket.
HOP-ON HOP-OFF is the most value-packed sightseeing adventure you will find, and you are sure to love the experience engaging with our magnificent team of New Orleans know-it-all's. So Hop-On and Sit