From its one-of-a-kind Cajun and Creole culture and its uniquely delicious foods to its gorgeous forests and bayous, there's no place quite like Louisiana. From New Orleans to Shreveport-Bossier, our country's 18th state is full of towns small and large to discover and an infinite number of other adventures you won't find anywhere else. Whether you're looking to experience jazz at its source or to immerse yourself in the history of the South, you've come to the right place. Discover a few of the top things to do in Louisiana below.
---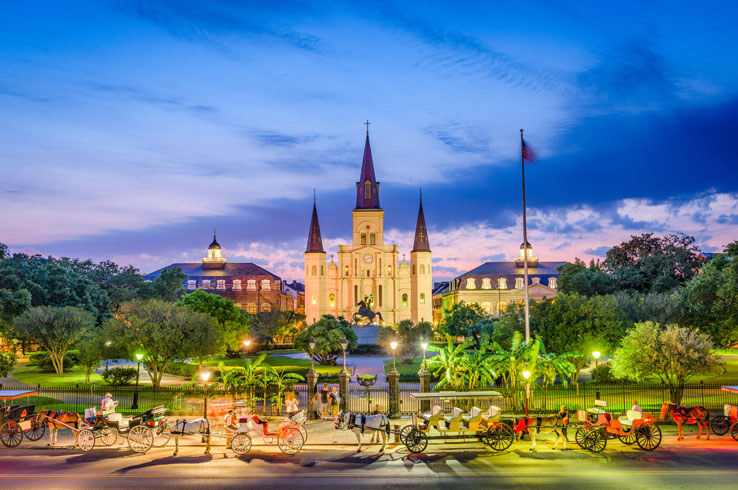 Explore New Orleans' Famous French Quarter
Breathtaking 18th-century architecture, the aromas of jambalaya and grilled oysters, and the lively sounds of blues and jazz. Everything that comes to mind when you think of Louisiana can be found in the French Quarter, the heart and soul of culture in New Orleans. The compelling blend of American, Creole, French, and Spanish architecture provides a perfect reflection of the Big Easy's culture, while its bars, restaurants, and shops bring it to life.
Start in Jackson Square, a National Historical Landmark where you'll find the spectacular St. Louis Cathedral. Snap a photo, then pick a street to explore. You can't go wrong, as any is a destination in its own right. Take in such historic wonders as the Napoleon House or the Old Ursuline Convent on Chartres Street, or experience all the neon-lit nightlife on Bourbon Street. Each street holds its fair share of surprises (like the New Orleans Historic Voodoo Museum), as well as a ton of places where you can sink your teeth into something delicious. If you want the New Orleans experience, get lost in the French Quarter.
View More Things to Do in Greater New Orleans.
Order All Brochures From This Region
---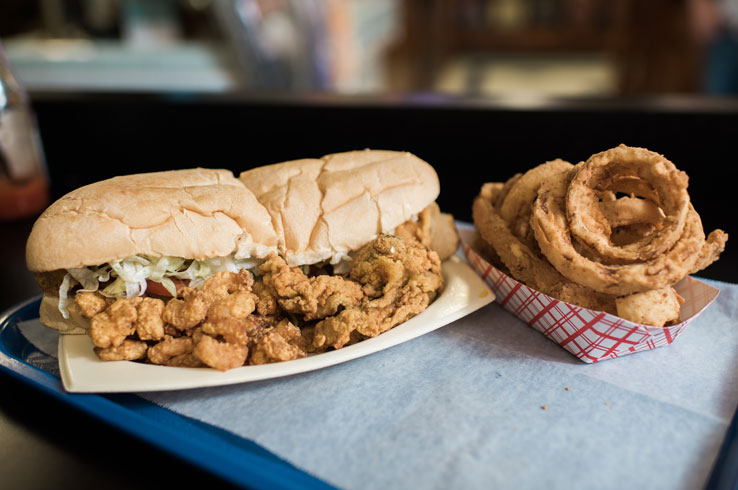 Savor Cajun Cooking in Cajun Country
Fried catfish, seafood gumbo, and mouthwatering boudin. When you're craving these Cajun favorites, it's time to follow the Cajun Bayou Food Trail. Nestled along Bayou Lafourche just 45 minutes south of New Orleans, the food trail is made up of 18 local restaurants serving up locally caught seafood and the tastiest Cajun fare around. Dig into fried oysters or shrimp served with fries and hush puppies at Cher Amie's Seafood Restaurant or some fried green tomatoes and a catfish Po-boy at Spahr's Seafood Restaurant. Eating your way along the trail, which runs from Thibodaux to Port Fourchon, is not just a treat for your taste buds; it's also a great way to explore Louisiana's Cajun Bayou.
Need more motivation? If you finish seven of the trails restaurants, you'll get a free t-shirt when you drop by the Louisiana's Cajun Bayou visitor center.
View More Things to Do in Cajun Country.
Order All Brochures From This Region
---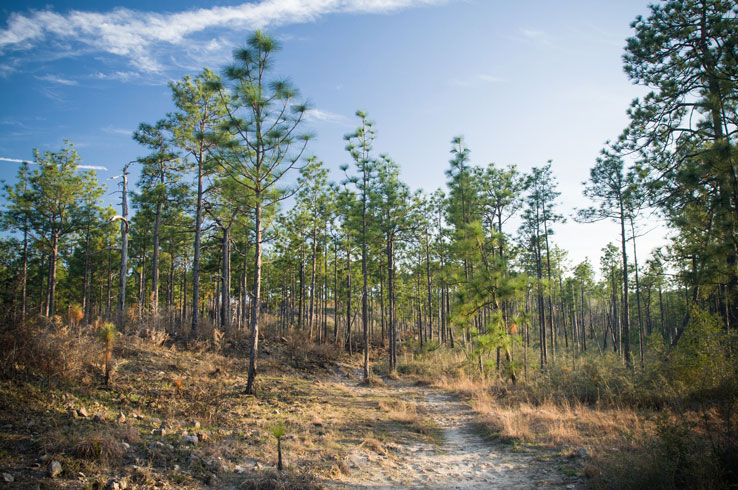 Hike, Bike & Admire the Beauty of the Kisatchie National Forest
Hike bucolic wooded trails, canoe on scenic lakes, and explore Kisatchie National Forest, the only national forest in Louisiana. Covering 604,000 acres in Louisiana's Crossroads region, the forest is a natural oasis that offers an endless number of things to see and do. One of the best starting points to experiencing the national forest is Alexandria, which sits near three recreation areas.
Travel northwest of town to reach the Longleaf Vista Recreation Area, where you can take in awe-inspiring panoramic views of sandstone bluffs before driving along the 17-mile Longleaf Trail Scenic Byway. For fishing and more hiking, head west to the Valentine Lake Recreation Complex. Here you'll find the three-mile Valentine Lake Trail, as well as two fishing piers and a boat launch that provides access to the Kincaid Reservoir. If you're closer to Leesville, check out the Fullerton Lake Recreation Complex. Stroll along the 1.6-mile Fullerton Mill Trail to see ruins and foundations of one of the largest mill operations in the South and do some biking and bank fishing.
Want to stay a bit longer in the outdoors? All three areas have a variety of campsites where you can set up your tent and sleep under the stars.
Photo Credit: Justin Meissen/flickr
View More Things to Do in Louisiana's Crossroads.
Order All Brochures From This Region
---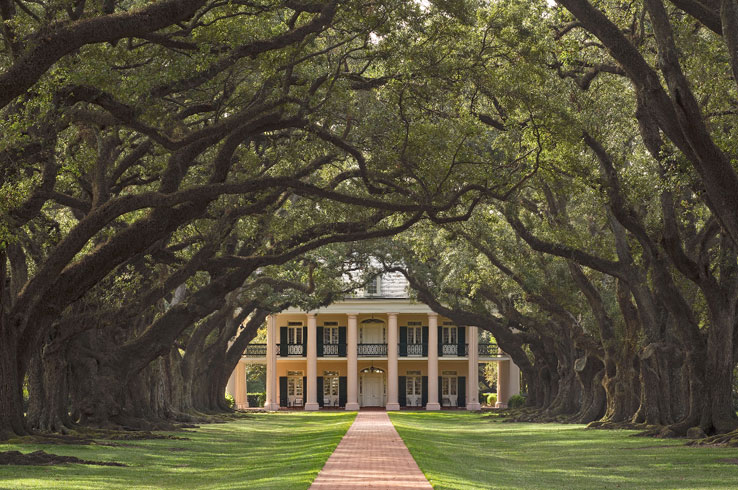 Tour Oak Alley Plantation
Venture through Louisiana's Plantation Country and you'll encounter one stately mansion after another. There are few as iconic as the Oak Alley Plantation in Vacherie, a stunning example of Greek Revival architecture that sits at the end of an alley of majestic oak trees. Beautifully preserved, Oak Alley is a living tribute to the rich—and troubled—history of the Antebellum South. Tour the Big House and study the Slavery at Oak Alley exhibit to see what daily life was like at the former sugarcane plantation and learn about the families that would later call it home. To get the full experience, stay the night in one of Oak Alley's overnight cottages. Located in the heart of Plantation Country, Oak Alley provides the perfect starting point to discovering this part of Louisiana.
View More Things to Do in Plantation Country.
Order All Brochures From This Region
---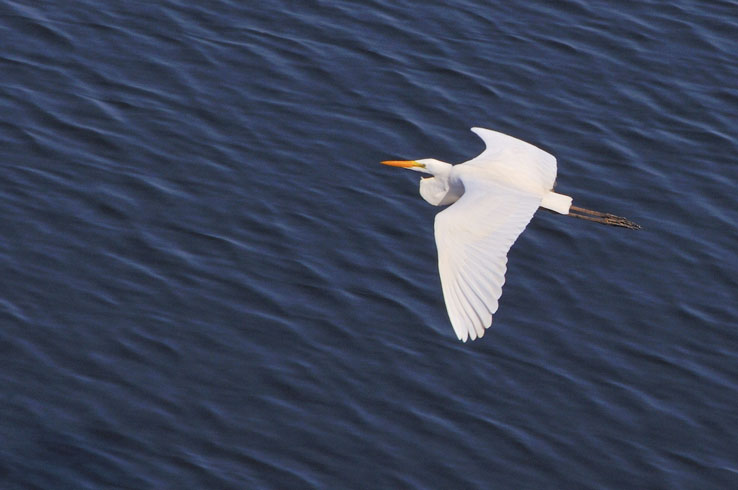 Cast a Line at Lake D'Arbonne
When it's time to do some fishing, try your luck at Lake D'Arbonne, one of the top bass lakes in Louisiana. Bring your fishing rod and tackle box to Lake D'Arbonne State Park, where you can drink in views of rolling hills and pine forests as you fish from any of the five piers or take your boat out onto the sprawling lake. Along with the bass, the lake offers crappie, catfish, and bream in abundance. Beyond the fishing, the 655-acre state park has hiking trails to explore, tree stands perfect for bird and wildlife photography, and even lighted tennis courts. If you want to experience the outdoors in Louisiana's Sportsman's Paradise, this is a great place to start.
Photo Credit: Talbot Troy/flickr
View More Things to Do in Sportsman's Paradise.