Journey into the Past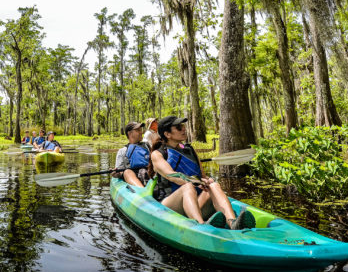 Immerse yourself into an authentic culture found nowhere else in the world, where some of the South's most beautiful and historic plantations stand magnificently along the Great Mississippi River Road. Their histories read like epic novels, full of mystery, adventure, romance and occasionally… spirits!
Feel the wind in your hair on a thrilling airboat swamp tour, where you might even hold a baby alligator. Sway to the funky exuberance of a zydeco rhythm, where accordions and rubboards set a toe-tapping tempo. Enjoy Cajun and Creole food that is as rich and vibrant as a bayou sunset.
Make a day trip of it, or better yet, stay the night and enjoy a wide range of accommodations, from the comfort of a national chain, to the charming appointments of a Southern bed and breakfast.
It's all here, just minutes from New Orleans, awaiting your discovery.