Watch a Cajun band dance down the streets, savor a cold beer and spicy crab cakes, and immerse yourself in the lively culture and history of Louisiana's Acadia Parish.
Known as the Heart of the Cajun Prairie, the parish is home to a diverse group of 10 towns, including Church Point (the Buggy Capital of the World and the Cajun Music Capital of the World) and Rayne (the Frog Capital of the World and the Louisiana City of Murals), this part of southern Louisiana is known for its festivals, history and, of course, food. Visit any of its communities or explore the entire parish and you'll be entranced by all that Cajun Prairie Country has to offer.
One thing's for sure: the folks in Acadia Parish know how to throw a festival. Two parades, a Queen's Ball, Cajun and Zydeco live music, arts and crafts booths, carnival rides, rice cooking contests, and a rice eating contest is all part of the fun at the International Rice Festival. Held in Crowley on the third weekend of October, it's one of Louisiana's largest and oldest agricultural festivals. Other can't-miss events include the Courire de Mardi Gras in Church Point, featuring an eclectic parade; the Carnival D'Acadie in Crowley, along with its rides, music and dancing; and the Rayne Frog Festival, when you'll have a "jumpin" good time.
If you automatically think "French" when you think of Louisiana, think again. Each October, hundreds gather for the annual Roberts Cove Germanfest. As the name implies, the community of Roberts Cove celebrates its rich German heritage over two days of German beer and food, folklore demonstrations, children's activities, and much more.
Acadia Parish is rice country, with its most prominent crop being an integral component of Cajun cooking. Get to know this side of the parish at Kelly's Landing Agricultural Museum in Crowley (the Rice Capital of the World), where you'll see vintage farming equipment and a toy tractor collection. Then step inside the Rice Interpretive Center to learn the history of rice production.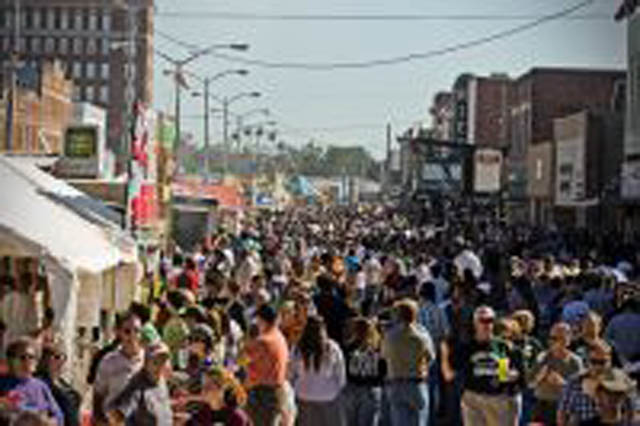 To discover Acadia Parish's history and folklore, head to Le Vieux Presbytere in Church Point. Built in 1887, it's one of the last structures in southern Louisiana to use the folk craft of mud wall construction known as bousillage. Follow that up with a tour of Crowley's Historic District, where you'll find more than 200 breathtaking structures listed on the National Register of Historic Places. Take in a show at the 1901 Grand Opera House of the South or the gloriously art deco Historic Rice Theatre, check out the Ford Motor Company building that is now City Hall, and admire all of the beautiful Victorian-era homes.
Whether it's food, festivals, or historical fun, Acadia Parish is the place to be to experience Louisiana's vibrant Cajun culture.