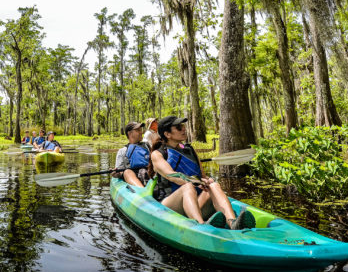 Welcome to Louisiana's River Parishes, stretching 30 miles along the banks of the Mississippi River. The region presents an authentic experience of grand homes and churches that highlight a wide range of architectural styles, featuring Raised French Creole, Greek Revival, Victorian Renaissance, and Steamboat Gothic.
While sugarcane is the primary agriculture in the region, you can also find Perique tobacco, one of the rarest blends of tobacco in the world. Perique is unique because this type of tobacco is grown only in one area of the River Parishes and is known for its strong, powerful, and fruity aroma. Food is the main ingredient that defines our cultures, and the Andouille Trail is a unique culinary byway that will introduce you to our contribution to Louisiana cuisine. You'll find producers with wooden smokehouses, recipes that have been handed down for generations, and restaurants serving up andouille in traditional and inventive new ways.
The museums, Historic Riverlands, the Garyville Timbermill, and our two newest ones, 1811/Kid Ory Historic House, and St. Charles Parish Virtual, are packed with great historical information about the region.
Three of our festivals, Catfish Festival, Andouille Festival, and the Louisiana Barn Smokers By Drew Estate, emphasize our proclaimed towns and parishes, with Des Allemands being the Catfish Capital of the World, LaPlace, the Andouille Capital of the World, and St. James Parish, the Perique Tobacco capital of the world. Other festivals and events that stress our traditions are the Bonfire Festival, the Alligator Festival, the Heritage Festival, and Mardi Gras festivities.
Outdoor recreation features several exciting experiences, ranging from exploring nature and wildlife on a Cajun Pride Swamp Tour and on a Swamp Adventures Airboat Tour. Further outdoor exploration of our natural wonders can be experienced at the Bonnet Carre Spillway, the Mississippi River Trail, the Blind River, and the Manchac Greenway, Louisiana's Swamp Road.
The Lafon Performing Arts Theater and the St. John Theatre offer first-class music, dance, and theatre productions, and there are several great local musicians and bands who enjoy playing old school, new school, and rhythms of the region when performing.
Finding a place to stay for a couple of days in Louisiana's River Parishes is easy. There are national chain hotels, bed and breakfast inns, cottages, and vacation homes.
We look forward to you visiting us out here! See you soon!