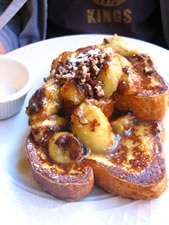 Ingredients:
2 cups heavy cream
2 extra-large eggs, beaten
1 egg yolk, beaten
1/4 teaspoon vanilla extract
3 tablespoons sugar
1 tablespoon cinnamon
4 slices brioche or Challah
4 tablespoons unsalted butter
3 tablespoons canola oil
4 ripe bananas, sliced in 1/4-inch rounds
3 tablespoons confectioner's sugar
Instructions:
In a large bowl combine the cream, eggs and vanilla and mix thoroughly.
In another, smaller bowl, mix together the sugar and cinnamon.
Dip the slices of bread briefly in the cream mixture and sprinkle the cinnamon sugar on both sides.
Meanwhile, melt 1 tablespoon of butter and 2 tablespoons of canola oil in a large sauté pan.
When the butter mixture is hot, add the bread, 2 slices at a time and sauté on each side until golden brown, about 1 minute per side.
Remove and reserve the slices and sauté the remaining slices.
As an option, you may deep fry the slices at this point at 350 degrees for about 30 seconds to make the toast extra-crisp.
Heat the remaining butter and oil in another sauté pan.
Sprinkle the bananas with the cinnamon sugar, add them to the pan and sauté until the bananas are well coated and caramelized.
Place 2 slices of French toast, overlapping, on each of 2 plates and pour the bananas over them.
Dust them with the confectioner's sugar shaken from a strainer or shaker.
Serve immediately.