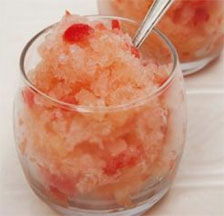 Ingredients:
1 cup sugar
1 cup water
1 46-ounce can pineapple juice
1 6-ounce can frozen orange juice concentrate
1 16-ounce jar red cherries, chopped
1 15-ounce can crushed pineapple
32 ounces 7-Up or Sprite soft drink
3/4 to 1 fifth bourbon
Instructions:
Add sugar to water and heat in microwave for 1 to 2 minutes. Stir until sugar is dissolved. Add juices, cherries, pineapple, soft drink, and Bourbon, stirring well.
Freeze in quart-sized containers, stirring occasionally while in the freezer. Can be kept frozen for several months.
Fruit may settle at the bottom of the container along with the liquor. Gently break up slush with tines of a fork to mix fruit into slush before serving.