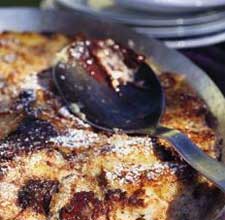 Ingredients:
2 quarts dried bread cubes, in 1-inch pieces
4 ounces white chocolate, coarsely chopped
4 ounces dark chocolate, coarsely chopped
3 large eggs
1 quart half-and-half
¾ cup sugar
2 tablespoons ground cinnamon
1 tablespoon vanilla extract
¼ cup (1/2 stick) butter, melted
Bourbon Sauce (recipe follows)
Bourbon Sauce
¼ cup sugar
½ cup (1 stick) butter
2 egg yolks
2 to 4 tablespoons bourbon
Instructions:
Preheat the oven to 350ºF. Grease a 9x13-inch baking pan. Spread the bread in the baking pan. Sprinkle the white and dark chocolate over the bread.
Whisk the eggs, half-and-half, sugar, cinnamon, vanilla, and melted butter together in a large bowl and pour over the bread. The mixture should look fairly wet and the bread should be slightly submerged when pressed with a spatula.
Bake, uncovered, for about 30 minutes, until the bread pudding jiggles like a bowl of jelly. If only the middle jiggles, it needs more time – the pudding should hold together and jiggle as one piece. Allow the pudding to cool slightly, then serve with a generous drizzle of Bourbon Sauce.
Bourbon Sauce
Heat the sugar and butter in a small saucepan over low heat, stirring, until the butter melts and the sugar dissolves.
Place the egg yolks in a metal mixing bowl and slowly pour the warm butter into the bowl, whisking constantly.
Finish the sauce with the bourbon, depending on how strong you want the flavor to be. If you are not serving the sauce immediately, cover and keep it warm. If the sauce gets too hot or too cold, it will break; if this happens, you'll need to whisk in another egg to fix it.