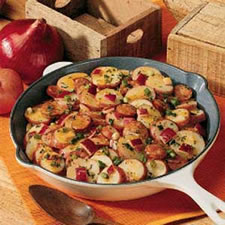 Ingredients:
2 pounds red potatoes, peeled and quartered
2 medium tomatoes, seeded and diced
1 tablespoon green onion, finely chopped
Salt and pepper to taste
2 tablespoons white wine vinegar
1-1/2 tablespoons Creole style mustard
1/4 to 1/2 teaspoon cayenne pepper
1/4 cup olive oil
2 tablespoons finely snipped parsley
4 bacon slices, cooked crisp
Instructions:
In a medium saucepan, cook potatoes in salted water until tender, about 15 to 20 minutes.
Remove from pan and dice.
Place in a medium bowl and add tomatoes green onions, and salt and pepper to taste.
Toss gently. Set aside.
In a small mixing bowl combine vinegar, mustard and cayenne pepper.
Add oil in a thin stream, heating constantly.
Stir in parsley.
Add dressing and bacon to potatoes and toss gently.
Allow potatoes to absorb dressing at least 15 minutes before serving.