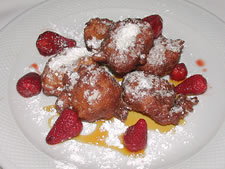 Ingredients:
2 cups cooked rice, cooled
3 eggs, beaten
1/2 cup granulated sugar
1 teaspoon ground cinnamon
1/2 teaspoon nutmeg
1 teaspoon vanilla extract
2 1/2 teaspoons baking powder
1/2 to 1 cup flour, just to make a good batter
oil for deep frying
confectioners' sugar
Instructions:
In a large bowl, combine cooked rice, eggs, sugar, cinnamon, nutmeg, vanilla and baking powder.
Add just enough flour to hold batter together.
It should drop from a spoon and stay together.
Heat oil in the deep fryer to 365°.
Drop batter by heaping teaspoonfuls into the hot oil.
Fry in small batches until golden brown and crisp, about 6 to 8 minutes.
Drain on paper towels and generously sprinkle with confectioners' sugar.