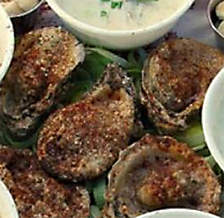 Ingredients:
10 ounces melted butter
1 tablespoon black pepper
1 tablespoon white pepper
1 tablespoon granulated garlic
3 tablespoons minced garlic
1/2 dozen Louisiana oysters
Parmesan cheese, to taste
Romano cheese, to taste

Instructions:
Combine melted butter, seasoning and garlic.
Shuck oysters, leaving each on the half shell and preserving as much liquor as possible.
Top each oyster with 1 tablespoon of the butter mixture and sprinkle with cheeses to taste.
Place on hot grill in its shell, allowing oyster to cook in its juices until its edges begin to curl.