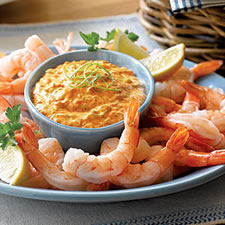 Ingredients:
1 1/2 cups mayonnaise
1/2 cup Creole mustard
1 tbsp Worcestershire sauce
1 tsp Louisiana hot sauce
1/2 cup finely diced green onions
1/4 cup finely diced celery
2 tbsp minced garlic
1/4 cup finely chopped parsley
1/2 tbsp lemon juice
salt and cracked black pepper to taste
3 dozen 21-25 count boiled shrimp, peeled and deveined
Instructions:
In a mixing bowl, combine all of the above ingredients, whisking well to incorporate the seasonings.
Once blended, cover and place in the refrigerator, preferably overnight.
A minimum of four hours will be required for flavor to be developed.
When ready, remove from refrigerator and adjust seasonings to taste.
Place six shrimp on a leaf of romaine or other colored lettuce and spoon a generous serving of remoulade sauce on top of the shrimp.
Do not sauce shrimp prior to service, as they will lose their firm texture.