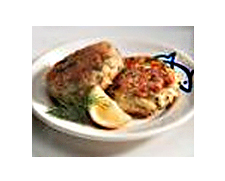 Ingredients:
1 Tbs. olive oil
1 large yellow onion. chopped
1 medium green bell pepper. chopped
2 ribs celery. chopped
1 lb. Lump Crabmeat
1/2 Tbs. Creole Seasoning
1/4 cup thinly sliced green onions
1/4 cup chopped parsley
2 Tbs. Tiger sauce
1 qt. heavy cream
1 oz. chicken demi-glace (optional)
1 Tbs. granulated onion
1 Tbs. granulated garlic
1 3/4 cups all-purpose flour
1/2 stick melted butter
Flour for dredging
4 eggs
2 cups milk
2 sticks margarine. clarified
Instructions:
Heat the olive oil in a large saute pan to smoking. Add onion. bell pepper. and celery and saute until wilted and slightly caramelized.
Transfer to a deep baking dish capable of holding 2 1/2 quarts. Add crabmeat. Creole seasoning. green onions. parsley. and tiger sauce. Toss with a rubber spatula to mix well. Set aside.
Combine cream. chicken demi-glace. granulated onion. and granulated garlic in a large saucepan and bring to a boil.
In a bowl. combine flour and melted butter to make a white roux. Once cream has come to a boil. lower the heat and add the roux. Whiskuntil the very thick sauce begins to pull away from the sides of the pot.
Pour the bechamel into the crabmeat mixture and fold until the crtabmeat is well distributed. Chill overnight. uncovered.
Divide and shape into 16 cakes. all about the same size.
Blend eggs into milk. Dust the cakes with flour. Dip into the egg-and-milk wash. then dredge in the flour again.
Heat the margarine over medium-high heat. with enough margarine into a pan to come about halfway up the cakes. Saute four crabcakes at a time until golden brown. Turn cakes. lower the heat. and saute bottoms are crusty and golden brown. Serve with remoulade sauce or tartar sauce--or nothing at all.