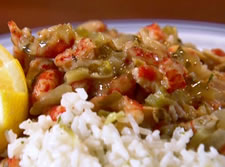 Ingedients:
1 cup butter
1 cup white onion, finely chopped
1/2 cup celery, finely chopped
1 cup shallots (green onions), finely chopped
2 teaspoons garlic, minced
2 tablespoons flour
1 cup whole tomatoes
2 cups fish stock
2 teaspoons salt
1 teaspoon black pepper
dash of cayenne
1 tablespoon Worcestershire sauce
1 1/2 cups crawfish meats
Instructions:
In a large saucepan melt butter and sauté onion, celery and shallots until tender.
Add garlic and cook 1 minute more.
Stir in flour and stir constantly until golden brown. Add tomatoes and brown.
Blend in stock and simmer 10 minutes.
Add salt, pepper, cayenne, Worcestershire sauce and crawfish, cook slowly 15 5o 20 minutes, stirring occasionally.
Serve with hot rice.