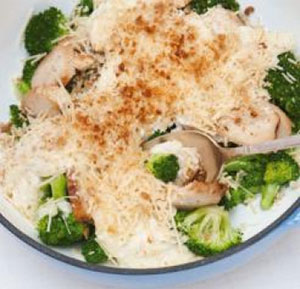 Ingredients:
3 cups fresh broccoli florets or 2 10-ounce packages frozen broccoli florets, cooked, drained, and cooled
3 boneless, skinless chicken breasts, cooked and diced
3 cups Cauliflower Purée (recipe follows), heated
Creole seasoning to taste
1 1/2 cups shredded Cheddar or Parmesan cheese
1/2 cup seasoned breadcrumbs
Cauliflower Purée

1 large head cauliflower, leaves and stem removed, cut into bite-sized pieces
1/2 cup butter or low-fat butter substitute
1/2 to 3/4 cup milk, cream, half-and-half, or fat free half-and-half, heated
salt and freshly ground pepper to taste

Instructions:
Cauliflower Puree
Add cauliflower to a large pot, preferably a Dutch oven, and add enough water to cover.
Set over high heat and bring to a boil. Cook until cauliflower is fork-tender, about 12 minutes.
Drain thoroughly. Return cauliflower to pot.
Add butter and blend. Add half the milk or cream and blend.
Puree with an immersion blender or in a traditional blender.
Add more milk or cream, blending constantly, until desired texture is reached.
Season with salt and pepper.
Chicken Divan
Preheat oven to 350°F.
Spray a 9x13-inch baking dish with nonstick cooking spray.
Scatter broccoli florets evenly over bottom of dish.
Scatter chicken over broccoli. Set aside.
Heat Cauliflower Puree in a saucepan set over medium heat.
Add milk or cream to thin to spreading consistency, if too thick.
Season with Creole seasoning. Pour puree evenly over chicken and broccoli.
Scatter the shredded cheese evenly over casserole.
Scatter breadcrumbs evenly over cheese.
Bake until browned and bubbling, about 30 minutes. exclusively by Louisiana Cookin' magazine.