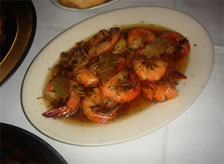 Ingredients:
2 lbs. large, whole fresh shrimp
¾ cup olive oil
1 tsp. salt
1 tsp. freshly ground black pepper
1 tsp. oregano
1 tsp. rosemary
3 bay leaves
6-10 cloves unpeeled garlic, mashed
½ cup dry white wine
Instructions:
Place all ingredients except wine into a large skillet.
Cook over medium-high heat for fifteen to twenty minutes or until the shrimp are pink and the liquid produced by the shrimp has almost completely disappeared.
Stir occasionally.
Reduce the heat and add the wine.
Cook at a low simmer until the liquid is reduced by half, about five to seven minutes.
Serve the shrimp hot with the pan juices.