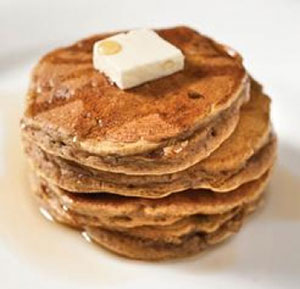 Ingredients:
1 1/4 cups drained Bruce's Cut Yams
1 cup flour
1 cup whole wheat flour
1 teaspoon baking soda
1 teaspoon baking powder
1 teaspoon ground cinnamon
1 teaspoon ground ginger
1/8 teaspoon ground nutmeg
1/8 teaspoon ground cloves
1/2 teaspoon salt
1 1/4 cups buttermilk
3 large eggs, separated
1/3 cup light brown sugar, packed
4 tablespoons unsalted butter, melted and cooled
1 tablespoon dark rum
1/2 cup chopped lightly toasted pecans, plus more for serving
Pure maple syrup
Instructions:
Place the yams in the work bowl of a food processor or mini chopper and puree until smooth.
In a large bowl, whisk together the flour, whole wheat flour, baking soda, baking powder, cinnamon, ginger, nutmeg, cloves, and salt. In a medium bowl, mix together the buttermilk, yam puree, egg yolks, brown sugar, melted butter, and rum.
Add the wet ingredients to the dry ingredients, mixing until just combined. In a clean medium bowl, beat the egg whites until soft peaks form.
Gently fold the egg whites into the pancake batter.
Fold in the 1/2 cup chopped pecans.
Spray a griddle or a large skillet with nonstick cooking spray and place over medium heat.
Working in batches, pour the batter by 1/3-cupfuls onto the griddle. Cook the pancakes until bubbles start to form on top, about 2 minutes.
Carefully turn the pancakes over and cook until the bottoms are golden brown, 1-2 minutes more.
Transfer the pancakes to plates and serve with pure maple syrup and a sprinkle of pecans.