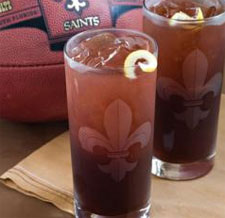 Ingredients:
2 ounces Southern Comfort
1 ounce freshly squeezed lime juice
1 1/2 ounces Gran Gala liquor
1 ounce orange Curacao liquor
1 1/2 ounces cranberry juice
3 ounces Abita root beer
lemon twist, for garnish

Instructions:
Fill a Collins glass with ice.
Add the juices and liquors, topping the drink with the Abita root beer.
Stir and garnish with a lemon twist.
Enjoy the tailgate!