By Alexandra Dedovitch

Comfortably nestled between the banks of the majestic Mississippi River and Lake Pontchartrain resides Kenner, LA. A short 20-minute drive outside of New Orleans, and a stone's throw away from the Louis Armstrong International Airport, welcome to Kenner, the largest city in Jefferson Parish. This Creole gem neighbors the hottest spots in Louisiana!
Read on to learn about 5 reasons to stay in Kenner on your next trip to New Orleans.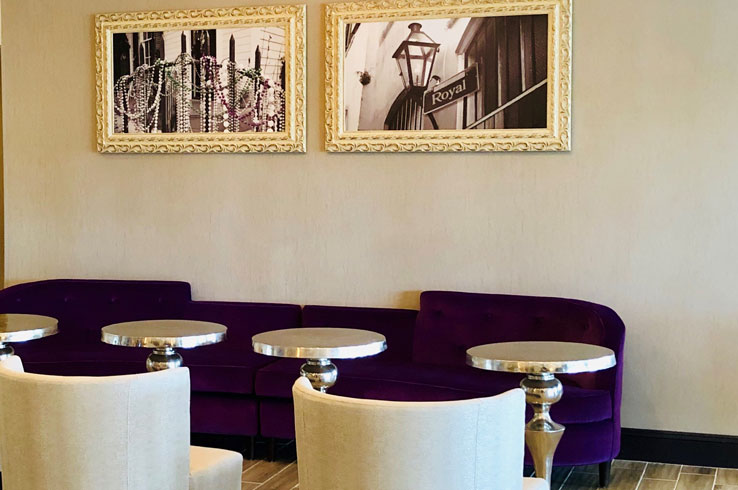 Close to Airport Affordable Hotels
No need to break the bank on your next Louisiana vacation, Kenner has got you covered. Offering some of the most affordable hotels in the area, here are a variety of Kenner hotels to get you started based on location and pricing.
The DoubleTree by Hilton Hotel is only 10 minutes from the Louis Armstrong New Orleans Airport and offers visitors a free 24-hour shuttle to and from the airport. You can literally hop off your plane and be sunbathing poolside at the DoubleTree's outdoor pool in no time. Choose from guest rooms, suites with separated rooms, connecting rooms, or accessible rooms to suit your needs. Have your first taste of Louisiana cooking at its onsite restaurant serving traditional Louisiana Creole and Cajun cuisine, a fitness center to burn those calories after your bite to eat, free wi-fi, and convenient room service.
The Hilton New Orleans Airport Hotel is only 3 miles from the Louis Armstrong International Airport with free 24-hour shuttle service. This luxury hotel offers nearly all the same amenities as its DoubleTree cousin. It is also comparable in pricing based on room size needs. However, its main difference is that it does not offer suites with living rooms like DoubleTree, but it does offer connecting rooms. It also provides hotel guests with convenient concierge service during their stay.
La Quinta Inn & Suites by Wyndam New Orleans Hotel is another affordable Kenner hotel conveniently located only a short distance from the Louis Armstrong New Orleans Airport. It also offers free 24-hour shuttle service and a free breakfast for guests every morning. An outdoor pool, gym, and free wi-fi is available to guests. For travelers with pets, this hotel offers pet-friendly rooms as well.
---

Mouth-Watering Louisiana Cuisine
Did you know many New Orleans locals step outside of the famous French Quarter and head to Kenner just for a taste of its scrumptious cuisine? Louisiana is known for its iconic Cajun, Creole, and French rooted dishes, and Kenner offers visitors plenty of authentic LA restaurants to choose from.
Try local favorite Café Du Monde well-known for its Acadian treats, such as fried beignets sweetly sprinkled with powder sugar and Café Au Lait, made from ground chicory and coffee beans giving it that signature, smooth, chocolatey flavor. If you're craving a fresh catch, grab a meal at another local delicacy, Kenner Seafood. This beloved Kenner seafood restaurant serves up everything from raw oysters, boudin links, and gumbo to crabmeat & mirliton soup, frog legs and speckled trout.
Along the Mississippi River resides Gendusa's Italian Market for a quick lunch of authentic Po-Boy's served on Gendusa family recipe bread and a slice of pizza made from imported Italian flour. For dinner, sink your teeth into a delicate cut of paneed veal or al dente fettuccini alfredo cooked to perfection.
---

Unique to Kenner Attractions
Even if you find yourself building your Louisiana vacation itinerary around New Orleans sightseeing, Kenner offers unique attractions only found within its corridors.
You'll feel beachy keen after a visit to Coconut Beach Sand Sports Complex in Laketown. It is the largest sand volleyball complex in the entire country, featuring 100,000-square-feet of outdoor sand complete with volleyball courts, picnic tables, lounge beach chairs, and a bustling bar & grill. Its onsite restaurant serves up drinks, food, and a great view of the many volleyball tournaments happening year-around.
If you'd like to leave earth for a couple of hours, head on over to the Kenner Planetarium & MegaDome Cinema in Rivertown. Be transported into spectacular planetary oasis and star-filled outer space under its 50-foot dome screen featuring out-of-this-world astronomy and laser light shows. With over 100 stadium seats, you'll always have the best seat in the house.
All work and no play makes anyone a dull boy. You're in luck! Stop by Kenner's Treasure Chest Casino in Laketown and try your hand at any of its gambling games such as poker, roulette, baccarat, and craps or play the slots. Treasure Chest also offers sports betting at its FanDuel Sportsbook with 3 betting windows, 16 self-service betting kiosks, and a large video wall with over 20 screens and sports ticker. You'll find a variety of progressive jackpots if you really aim to leave with more money than you came with on your Louisiana trip.
---

Visit Nearby Waterfront Areas
Conveniently sandwiched between Lake Pontchartrain and the Mississippi River, Kenner has two amazing waterfront districts to explore on your trip.
Rivertown in Kenner brings in the breezy vibes radiating off the mighty Mississippi River. Stroll its 12-block historic district sprawling with shoppes, restaurants, gift stores, performance theaters, and other attractions.
Kenner's Laketown sits tranquilly on the shores of Lake Pontchartrain. Throw a line along the Laketown Fishing Pier, play a game at the river-boat themed Treasure Chest Casino, attend a performance at the Pontchartrain Convention Center, or leisurely walk along its shoreline nature trails.
---

Kenner Annual Events
Kenner hosts many exciting events throughout the year, some of its most popular ones feature special outdoor shows, cultural celebrations, and fun festivals for all ages.
The month of February honors the most exciting event in Louisiana culture. Experience Lundi Gras, the day before Mardi Gras, and Mardi Gras in Kenner. This special occasion showcases the crews of Zulu and Argus coming together in an exclusive, festive, and one-of-kind celebration.
In May, find yourself at Rivertown Heritage Park for their family-friendly Music in the Park, every Friday and Movies in the Park, every Saturday during the month.
During the Fall season, come hungry! Foodies will want to get in on the action at Kenner's Food Truck Fest. Featuring live music, activities, and of course, loads of food truck munchies to sink your teeth into, Kenner is the place to taste in November.
Be sure to #VisitKenner on Instagram and Facebook for the latest events and updates.
Located right outside of New Orleans and only minutes from Louis Armstrong International Airport, Kenner has noisy neighbors, but it is no ordinary Louisiana town. From affordable hotels and unique attractions to tastebud buzzing food and 2 historic waterfronts, you'll have good reason to stay and plenty to keep you coming back for more!
---
About the Author: Alexandra is the Head Writer and Digital Content Creator for Tour Louisiana and Tour Texas. She is an avid traveler, lover of the arts, and enthusiast of Southern lifestyle!