Things To Do in Lafayette
Hundreds of years of history, scenic bayous and lakes, and world-famous Cajun cuisine. The possibilities are endless here in Lafayette, a southern Louisiana city known as The Heart of Cajun Country. There's a long list of things to do in Lafayette, regardless of whether you're seeking an escape to nature or to get your fill of etouffee and jambalaya. Discover some of the many ways to explore this corner of the Bayou State below.
Love the Louisiana Lake Life
Louisiana is known for its bayous and swamps, but don't count out the area lakes. Lake Martin, for example, is an adventure lover's dream. The lake is home to the Cypress Island Nature Preserve, where hundreds of species of colonial nesting water birds can be found throughout the year, including ahingas, great blue herons, and roseate spoonbills. While you're here, you'll probably also spot alligators and nutrias, as both are common in the preserve. See it all as you explore the 2.5-mile walking trail, which is open from fall through spring every year.
---
Experience a Swamp Tour
No visit to Louisiana is complete without embarking on one of the state's iconic pastimes: swamp tours. The last great river-basin swamp, the Atchafalaya Basin, flows near Lafayette. Home to the largest nesting concentration of bald eagles in the south-central United States, 65 other species of reptiles and amphibians, and more than 90 species of fish, crawfish, crabs, and shrimp, the Atchafalaya is a natural wonderland. Experience it for yourself on a swamp boat tour with McGee's Louisiana Swamp & Airboat Tours, a 90-minute excursion past majestic cypress trees and through one of the most impressive wildernesses in North America. Alligators here are plentiful, so keep an eye out (and your camera handy) for a photo of a lifetime.
Although there's much to see in the Atchafalaya Basin, Lake Martin offers ample adventure as well. With Cajun Country Swamp Tours, you'll find yourself among the moss-draped trees of Bayou Teche on an adventure led by a naturalist with degrees in zoology and botany. These aren't the only tours you can go on in and near Lafayette. See the others here.
---
Travel Back in Time
The best way to get to know a place is to uncover its history, and there's a lot to discover in Lafayette. Although it wasn't formally founded until 1821, there were numerous settlements founded by Acadian, French, and Spanish settlers along the Vermilion River that date back to the mid-18th century. See what the early days were like at the LARC's Acadian Village, an open-air museum with homes and other structures from the 1800's. Learn how to spin and weave at the Billeaud House, explore the office of Lafayette's first official dentist at the Doctor's Museum, and walk through the oldest structure in the village, the Bernard House.
Meanwhile, the Vermilionville Living History Museum and Folklife Park is one of the world's largest physical representations of an early Acadian settlement using original structures dating from the 1760's to the 1890's. Sitting on 23 acres on the banks of Bayou Vermilion, the park features 19 attractions and more than 13 local artisans that provide demonstrations on a variety of essential crafts performed by the early settlers.
---
Explore Downtown Lafayette
Whether it's enjoying delicious Cajun fare or touring a captivating museum, Downtown Lafayette gives you plenty to explore. After all, this part of town is home to more than 40 bars and restaurants, nine parks and museums, and endless live music performances. Start at the Alexandre Mouton House, built in 1800 by one of the region's first settlers, Jean Mouton. Today, the house acts as a museum for the city of Lafayette and features a variety of treasured artifacts and galleries, each telling their own story.
After you visit the museum, wander into any of the 12 art galleries or check out the displays of public art before savoring sweet potato biscuits, beignets, pizza, or some authentic Indian fare. Finish off your downtown exploration by visiting the Acadiana Center for the Arts, where you'll tour various artistic exhibits, or take in a showstopping performance on stage. Downtown Lafayette is a destination unto itself, and you could easily spend all day here. With so much to see and do, why wouldn't you?
---
Become a Foodie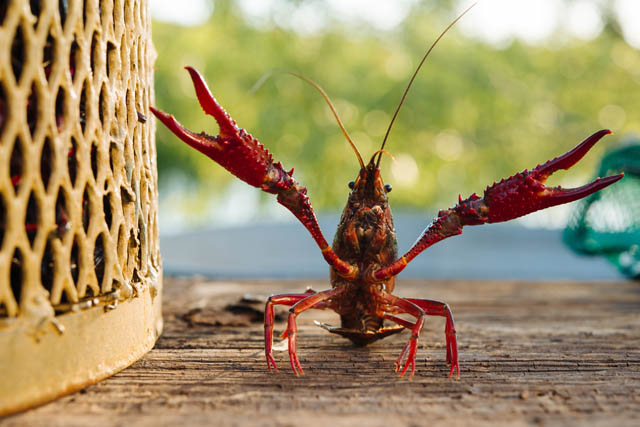 Shrimp, crawfish, gumbo, boudin … where do you start? No matter what you're craving, Lafayette has something for you. In fact, the town was named the Best Food City in the USA in the Rand McNally/USA TODAY Best of the Road Rally. Whether you're craving the distinct tastes of Cajun fare or some savory Mediterranean cuisine, you'll find just about everything in abundance here. To get the most out of your dining adventure, follow one of these helpful itineraries. Just make sure to bring your appetite, as you'll certainly get your fill along the way.
---
Savor Local Craft Beer
Live music and craft beer are all perfect ways to join the party in Lafayette, which is quickly making a name for itself in the brew world. Start at Bayou Teche Brewing, a family-owned brewery that creates a tantalizing array of beers, ranging from the Ragin Cajuns Lager made with Louisiana honey to the LA 31 Noire, a dark and flavorful French saison. Head just outside of town and you'll reach Parish Brewing, where the coffee stout, Louisiana wheat ale, and a sessionable amber ale are joined by inventive seasonal releases throughout the year. These are just two of the four breweries in Lafayette that you can visit. For a full idea of all the tastes they have to offer, we suggest you get a flight at each.
---
Take Part in the Festivities of Festivals
There is no shortage of events and festivals year-round in Lafayette. Start off the year with a Mardi Gras celebration featuring carnival excitement and family-friendly events. Combine your love for food and culture at the annual Acadiana Po-boy Festival, which celebrates the legacy of the humble "po-boy" sandwich. For a true authentic experience, take part in the Original Southwest Louisiana Zydeco Music Festival, the world's largest Zydeco and LaLa music festival. No matter the season, there's always something going on in Lafayette. Check out a full calendar of events and festivals here.
---
Find Family-Friendly Spots
Traveling with your family? Lafayette has plenty of fun for all ages. One of the city's most popular attractions visited by families is the Lafayette Science Museum, where you'll find a fun, hands-on experience for curious minds. From astronomy to paleontology, there's so much to explore! For even more interactive fun, find your way to the Children's Museum of Acadiana. Learn, play, and develop new skills with the multitude of hands-on and immersive exhibits like a full-size ambulance, mini grocery store, art workshop, and café. Located near Downtown Lafayette, the museum is an essential stop during an ideal day in town.